DEGREE AND GRADUATION REQUIREMENTS
In order to earn a Bachelor of Science Program (B.Sc.) and graduate at International B.Sc. Program, Faculty of Science, Mahidol University (SIM), all International program Science students must: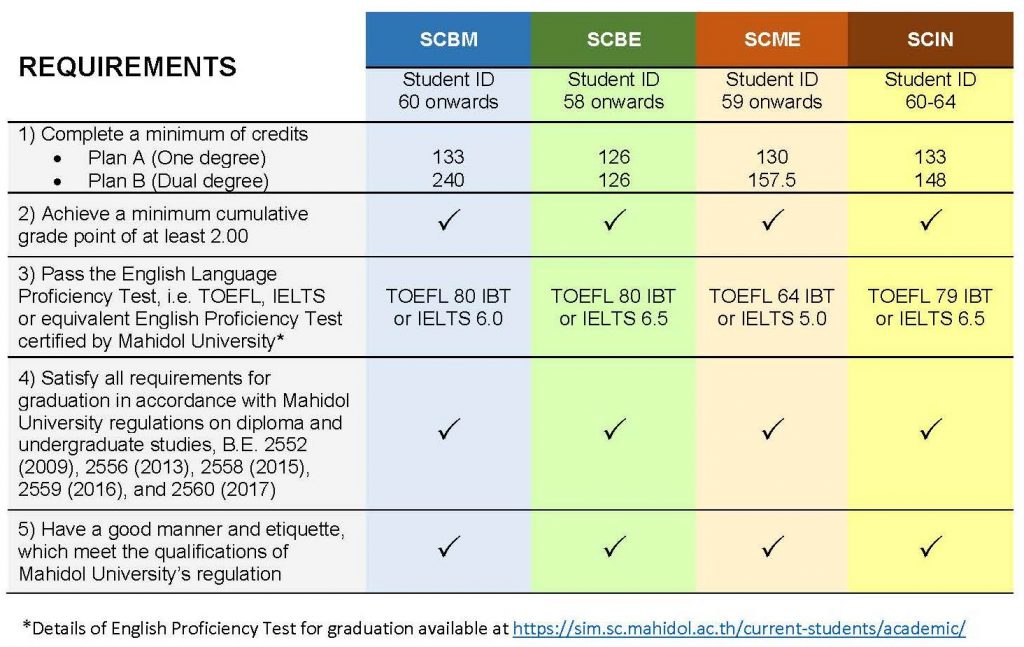 The final year students will be notified if you are a candidate for graduation at your e-mail address before your final examination begins. You should verify your status by checking your academic record. Students are responsible for determining that all graduation requirements are complete. It is highly recommended that you should meet with your academic advisor/ program chair prior to your last semester in order to review your academic records and ensure all graduation requirements will be met.
PROCEDURES FOR DOCUMENT APPROVAL

The procedures for document submission as follows:

Students are required to submit a Degree Requirement Inspection Form along with the English Proficiency Test Score Report to your academic advisor and program chair, respectively. 

The academic advisor and Program Chair will review the submitted documents to inspect whether students are complete and are a worthy candidate for graduation.

If your documents are already approved by academic advisor/ program chair, you have to additional submit an original pay-in slip for graduation documents (200THB)*. The graduation document pack includes two academic transcript (in English) and two letter of completion (in Thai and English).

Bank account: 016-300325-6

The Siam Commercial Bank PCL. (SIRIRAJ Hospital branch)

The Program will then submit a set of approved documents to Division of Educational Affairs, Phayathai campus for verifying your graduation and officially conferring your degree.
 GUIDE FOR COMPLETING THE FORM
Bioresources and Environmental Biology

Materials Science and Nano Engineering

Bioinnovation
DOCUMENT SUBMISSION DATE FOR THE ACADEMIC YEAR 2021


GRADUATION 
Students who have officially and successfully completed all of your degree requirements will be recorded on your official transcript. Mahidol University's council will certify your graduation and officially confer your degree.
REGISTRATION TO GRADUATION

Regardliess of whether you are attending your graduation ceremony, every student who has completed their courses is required to register for graduation. You can register your graduation and pay for graduation fee through your e-student system.
The Graduation Registration System will be available at your e-student system 
Graduates in the academic year 2020: 11 April – 11 May 2022
Graduates in the academic year 2021: 12 May – 4 July 2022
GRADUATION CEREMONY 
Find out news and updates about the Royally-Presented Degree Graduation Ceremony in the academic year 2020 (B.E. 2563) scheduled on 11 October 2021 as follows:
| | | | | | | |
| --- | --- | --- | --- | --- | --- | --- |
| | | |    Announcement | | | |